Following yesterday's impressive winter storm, quieter weather is on tap for the week ahead. The sunshine and warmer temperatures will be welcomed. Our next chance of snow comes late in the week…
At least three inches for everyone! 
Though it may not seem like much, yesterday was Denver's biggest snowstorm since December 16-17, 2016. 5.7″ was reported at Denver International Airport. Boulder recorded 7.1″.
After a few hours of freezing drizzle early Sunday morning, snow began around 2:00 AM and continued into the late afternoon and early evening hours across the Metro area. Downslope and drier air eventually killed-off the snow between 3PM and 5PM for Boulder County.
Shown below is our original forecast map created Saturday morning. The observed storm totals per location are contained in boxes. Green ones indicate that the observed snowfall was within one inch of the given forecast range, while red was outside the scope of our forecast.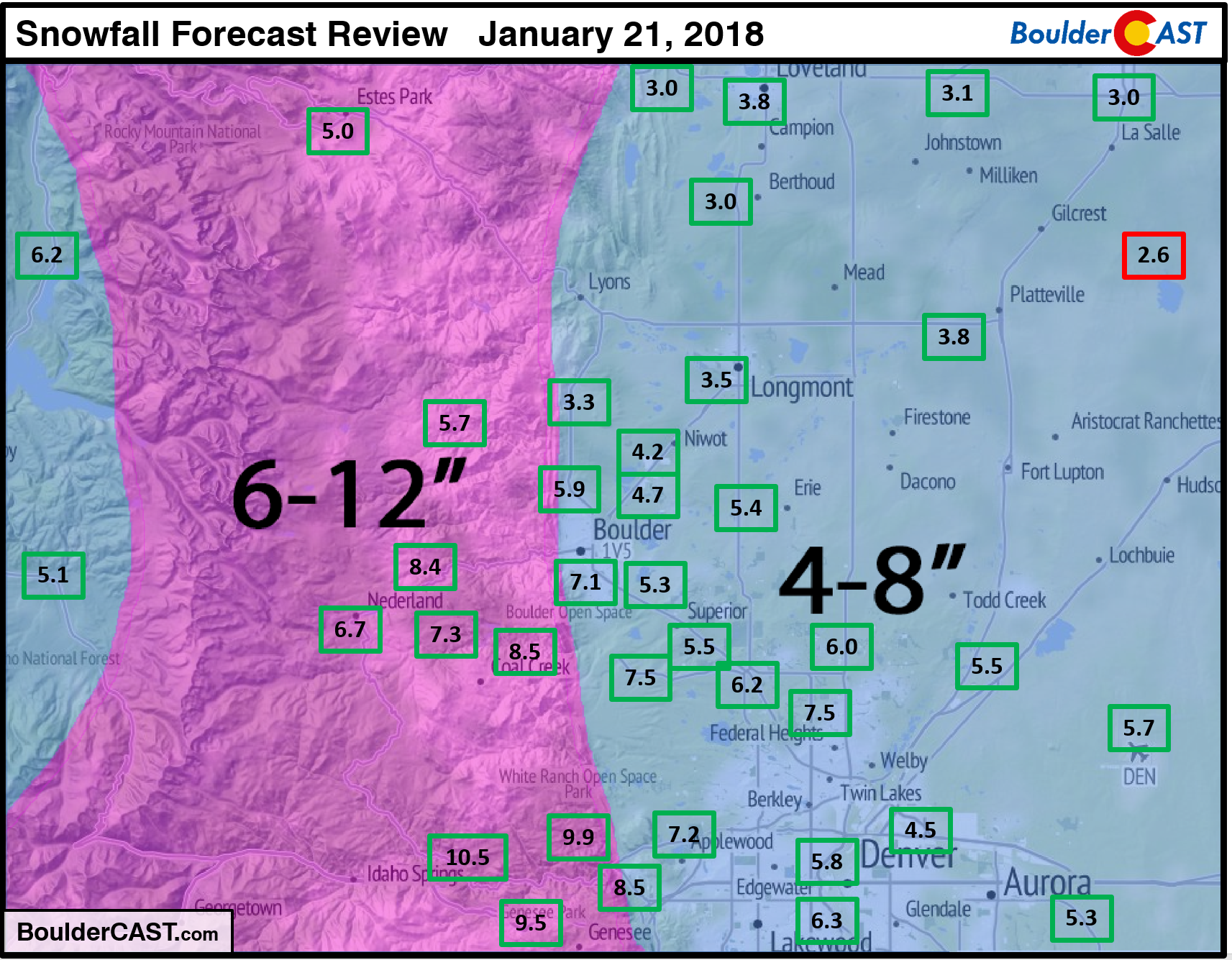 In general, 5-10″ of snow fell in the Foothills, with 4-7″ across the lower elevations. Most of you should have ended-up happy from our forecast. It was great to be back forecasting snow again…real snow….not those 0 to 3-inchers that have been a mainstay this winter. With drought creeping back into the state, we can only hope these occasions stay frequent through the remainder of winter…
The rest of the week….
We begin by showing the current weather set-up across the United States. The upper-low responsible for yesterday's snow is now located across Missouri and Iowa. It will cause our region no further grief. Drier northwest flow is already in place across Colorado.
There will be a weak embedded wave moving across northern Colorado early Tuesday morning. You can see hints of this feature in northwest Wyoming in the map above. This wave will produce a few snow showers in the Mountains north of Interstate 70 tonight, and that's about all. Temperatures Monday and Tuesday will top out around 40 degrees with abundant sunshine. 
Our main weather feature Wednesday and Thursday will be a ridge of high pressure moving across the region from west to east. Mid-level flow will turn southwesterly ahead of our next system, leading to more moisture to support wave clouds both days. High temperatures will be markedly warmer in the 50's to near 60 degrees.
Finally, as you may have noticed in Thursday's forecast map above, our next weather system is set to arrive sometime on Friday. There is decent agreement between the GFS and European models on this feature, though it has been trending weaker over the last day or two in both models. The system looks to remain an open wave and won't be nearly as strong as the departing storm from this weekend. With the jet stream overhead and another potential cold front, we can't rule out a few snow showers for the region on Friday. The Mountains will likely catch the brunt of this one, but time will tell. Current indication is for only 1 to 4″ of snow in the High Country Friday and Saturday. We'll be tracking this system through the week, so stay tuned.
Forecast Specifics: 
Monday:  Sunny and cool with highs near 40 degrees across the Plains, with upper 20's in the Foothills.
Tuesday:  Mostly sunny and still cool. Highs near 40 degrees for the Plains with upper 20's in the Foothills.
Wednesday:  Partly cloudy and warmer with the snow really starting to melt! Highs in the mid 50's across the Plains, and low 40's in the Foothills.
Thursday:  Partly to mostly cloudy skies. Southwest flow ahead of our next system will make this the warmest day of the week. Expect highs near 60 degrees across the Plains and upper 40's in the Foothills.
Friday:  Partly cloudy and cooler with a very slight chance of snow showers. Expect highs in the 40's or 30's. It hard to say for sure given the timing of a cold front on Friday.
High Country: The mountains north of Interstate 70 favored by northwest flow could see a few snow showers early Tuesday morning as a weak wave passes through Wyoming. Little accumulation is expected. Dry and breezy weather then persists through the rest of the week, with the next potential snow-maker for the ski resorts moving in on Friday. It doesn't look like a major one, however. Find the latest forecast for all your favorite Colorado ski resorts on our PowderCAST page.
DISCLAIMER: This weekly outlook forecast was created Monday morning and covers the entire upcoming week. Accuracy will decrease as the week progresses as this post is NOT updated. To receive daily updated forecasts, subscribe to BoulderCAST Premium.

.
Share!